The survivors of this army, and their families will expect their sacrifice to be respected and, indeed, rewarded
Robert Fisk Al-Arak, Syria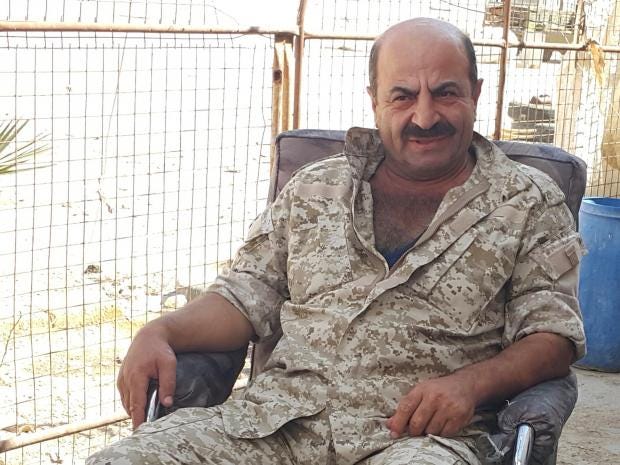 Isis returned to Palmyra and were driven out once more and then, months later, the great battle began to push Isis towards the Euphrates. I wanted to talk to Khadour again. He was now fighting east of Palmyra in the hills around al-Arak. A friend called him at his home above Lattakia – yes, he was an Alawite although most of his men were Sunni Muslims – where he was briefly on leave, to say I wanted to see him. He now had just two days to live.
Fouad Khadour's superior officer bore the same family name – he was General Mohamed Khadour, who is commander of the entire eastern military region – though they were not related. He took me out to the hills where Khadour was killed. These are his words: "I and my colleague were talking to Fouad on the phone where he was under attack near the Ramamin [oil] field and we went off to see him to talk about the operation. We saw him on a hill organising his troops at al-Arak. He walked towards the road where we stopped and Isis were firing mortars at us which landed near us. They knew who they were shooting at. We gave our plans to Fouad. I said we should temporarily evacuate this area. When we got back to our vehicle, Fouad came to say goodbye. But just after we drove away, a tank shell exploded beside him. We heard that he was hit in the hand. I tried to call him on his phone and he tried to talk but could not speak. He was on the line because I could see his name on the phone screen. They got him to hospital and he kept saying "it's just my hand" and he was quite clear-headed. But then they discovered a piece of shrapnel had entered his body and punctured his lung. And then he declined and his breathing started to falter and after an hour he was dead. He was a hero and a very brave man."
The regime's enemies would deny this – as they curse all of Assad's army – but it is a fact that General Fouad Khadour died fighting the same murderous cult that Russia, America and France and countless Western countries have named as their greatest enemy. That so many of Isis's weapons turn out to have originated in the West – both the living General Khadour and the dead General Khadour spoke of this to me – provides a cruel irony to this story. The tank which fired at Fouad Khadour might have been Syrian armour captured early in the war – or an American Abrams seized by Isis in Mosul in 2014 and driven into Syria as many other US tanks were.
But Fouad Khadour's death represented something else. For here died yet another senior officer in an army which may now have lost around 74,000 soldiers. Many of the dead are indeed officers, too, because field commanders in Syria are expected to live in the front lines. Another senior officer was killed during a failed ceasefire in Aleppo two weeks ago. I found one Syrian colonel in Aleppo this month who – after much reflection – said that he could think of 200 people he knew personally who had been killed in the war, most of them soldiers, one of them his uncle. The survivors of this army, and their families – if they "win" this war, and if such a simple victory is possible when so many foreign powers are involved – will expect their sacrifice to be respected and, indeed, rewarded.
Thus the importance of the Syrian army grows each day. It is no longer the corrupted – and corrupting – force which rotted away in Lebanon for 29 years, nor the untrained force which first confronted insurrection amid the defection of its own soldiers. It is now the most battle-hardened Arab army in the Middle East, more so than the Iraqis, who have far fewer professional soldiers.
And it is the Syrian army which will have to rebuild Syria. General Fouad Khadour – and his death – are thus part of the future as well as the past of Syria.